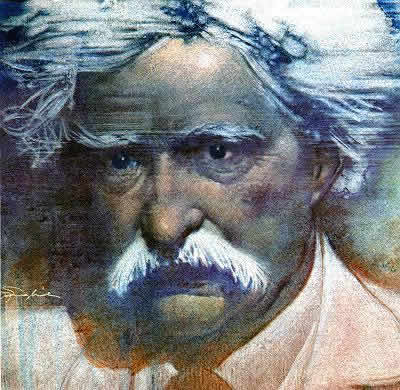 You see, the lightning refuses to strike me -- that is where the defect is. We have to do our own striking, as Barney Bernato did. But nobody ever gets the courage till he goes crazy.- Letter to Henry Rogers, 16 June 1897

Suicide is the only sane thing the young or old ever do in this life.
- quoted in Mark Twain: God' s Fool, Hamlin Hill

Unfortunately none of us can see far ahead; prophecy is not for us. Hence the paucity of suicides.
- "Which Was the Dream?"


But we are all insane, anyway...The suicides seem to be the only sane people.
- Mark Twain's Notebook, #40, (Jan. 1897-July 1900)
Of the demonstrably wise there are but two: those who commit suicide, & those who keep their reasoning faculties atrophied with drink.
- Notebook, 1898
I do see that there is an argument against suicide: the grief of the worshipers left behind, the awful famine in their hearts, these are too costly terms for the release.
- Letter to William Dean Howells, 13 July 1889
I would not be a party to that last and meanest unkindness, treachery to a would-be suicide. My sympathies have been with the suicides for many, many years. I am always glad when the suicide succeeds in his undertaking. I always feel a genuine pain in my heart, a genuine grief, a genuine pity, when some scoundrel stays the suicide's hand and compels him to continue his life.
-
Autobiography of Mark Twain, Vol. 2
(2013), p. 45-46. Dictated 11 April 1906.